Click the link below to enter the competition! Are you feeling lucky?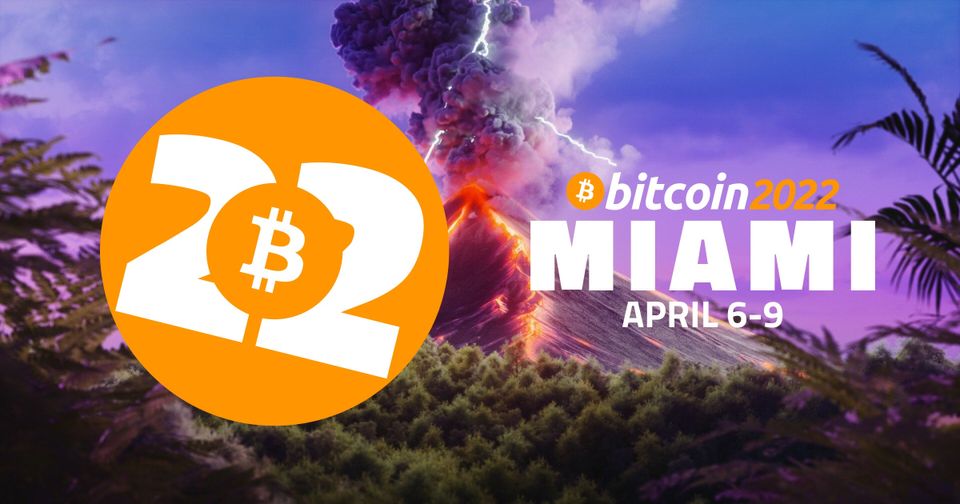 Bitcoin 2022 Conference in Miami, what is it?
We are not exaggerating, this is the world's largest Bitcoin gathering. The organizers announced Bitcoin 2022 as a four-day pilgrimage for those seeking greater freedom and individual sovereignty. In three words: Education, Celebration, Hyperbitcoinization. 
Which speakers will be at the conference?
The lineup for Bitcoin 2022 is a dynamic mix of trailblazers, innovative technologists, and entrepreneurs that will provide participants with unique insights. There will be such big names as Michael Saylor (CEO, MicroStrategy), Nayib Bukele (President, El Salvador), Jack Mallers (CEO & Founder, Strike), Elizabeth Stark (CEO, Lightning Labs), Pavol Rusnák (CTO SatoshiLabs & Trezor) and others. Check the whole list of speakers.
When will you pick the winners and how?
The winners will be randomly selected on the Gleam platform on February 28, giving you ample time to arrange transport and accommodation.
The contest is open to participants worldwide, void where prohibited by law. You must be 18 years or older to enter and need to be sure you can be in Miami on April 6-9. You will have to arrange and pay for travel and accommodation yourself. The competition is for conference tickets only. (A $800 value!)
Can I go to the Sound Money Fest with that ticket?
The answer is yes! Sound Money Fest will occur at the combined Pride Park and Miami Beach Convention Center in Miami Beach, FL. There are both indoor and outdoor elements to this one-of-a-kind music festival.‍ Sound Money Fest gates open April 9, 2022, at 10 a.m. EST and go till 10 p.m. EST.‍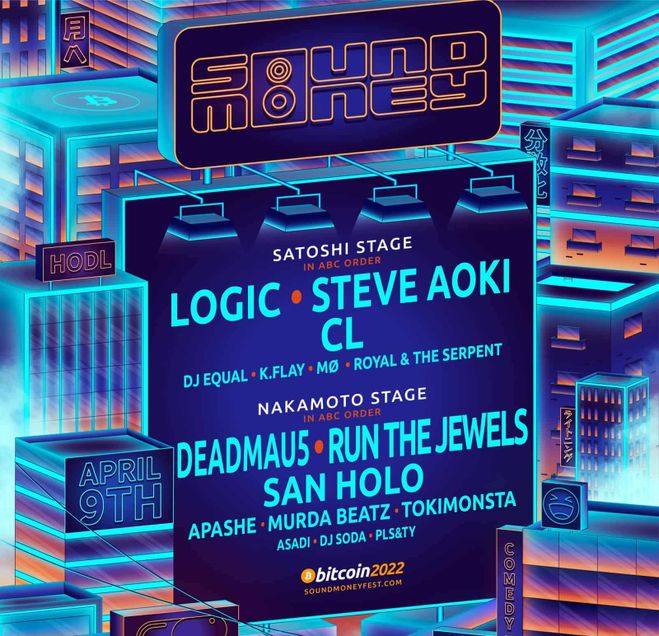 What type of tickets are we raffling off?
It's called GA pass and includes:
• General access to the Main Conference days (April 7th & 8th)
• Access to the Sound Money Fest (April 9th) 
Additional details: NO PURCHASE IS NECESSARY TO ENTER OR WIN.
Duration: 12:00 AM 3rd February 2022 — 11:59 PM 27th February 2022, GMT+1
Sponsor: The Sponsor of the Bitcoin 2022 Conference Ticket giveaway is GENERAL BYTES SRO, Prague, U Pergamenky 1522/2, Czech Republic
Eligibility: Bitcoin 2022 Conference Ticket giveaway (the "Sweepstakes") is only open to those who sign up on that page and are 18 years of age as of the date of entry. The Sweepstakes is available worldwide and is void where prohibited by law. Employees, independent contractors, interns, officers, directors, and agents of GENERAL BYTES SRO (the "Sponsor") their respective affiliates, subsidiaries, advertising and promotion agencies, suppliers, and their immediate family members or those living in the same household of each are not eligible to participate in the Sweepstakes. The Sweepstakes is subject to applicable federal, state, and local laws and regulations. Void where prohibited.